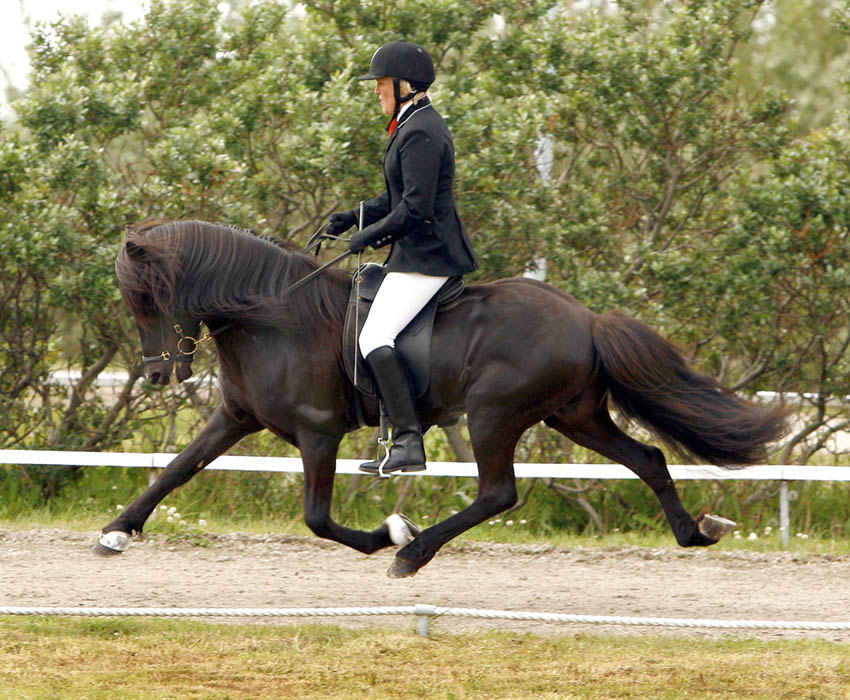 To teach is something I have always been interested in and enjoyed. I started teaching in 1990 then in Búðardalur, Borgarnes, Þingeyri and Bolungarvík. Also in Norway; Forsand, Haugesund and Oslo. Later things started in grow and before I knew it I was teaching in many places. The first riding instruction course I took I became a Riding Instructor C on behalf of FT (Trainers Association) in 1996.
Later I went again and became a Riding Instructor B on behalf of FT (Trainers Association) in 1998. I often really enjoy teaching. I have learned a lot from my students and I have focused on traveling and survey as much as I can, to see how and what is happening in the horse world. For instance I have taught in Norway, Sweden, Denmark, Finland, Great Britain, Germany, Austria, Switzerland, Netherlands and Belgium and in the fall of 2007 I went to the USA.
It is interesting to watch how much the facilities for teaching have developed and improved. Riding halls were built in many places in Iceland and that helps us to be independent from the weather. Riding halls are necessary for improvements in the horsemanship and can totally change the social aspect if organized well. This summer I went back to Þingeyrar in Dýrafjörður to teach and I hadn't been there for 15 years. The facilities there are very good, trails, tracks and a new riding hall 20m x 40m plus space for audience. There I met old friends that I haven't seen much of in the past years and it was nice to see that they now had children's courses and hopefully they can get riding instructors and promote their operation in the future. Now I mostly teach in Scandinavia and Switzerland along with a few times in Germany and USA, abroad I mostly teach private lessons.
In Iceland I have done more private lessons lately but it varies and it depends on what the project is, group lessons at Riding Clubs, weekend courses privately organized for a private group and individual private lessons. It is all difficult but rewarding and fun. Teaching will probably always be a big part in my life and it is always a good feeling when the student gets control of the project. In the future the plan is to move the teaching to our farm when our facilities have been built up but we are still under construction.